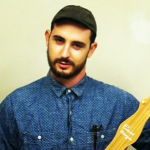 Brian Carver is the founder and folk artist behind Carver Banjos.  Growing up in the Midwest, his passion for the folk music genre developed independently of any outside influence.  You might say that he just had it in his genes.
Brian was only a teenager when he built and sold his first handmade banjo.  Now, over a decade has passed and hundreds of his banjos and DIY banjo kits have been sold to countries all over the world.  His work has been enjoyed by banjo-lovers everywhere from Tasmania, Australia to Newfoundland, Canada.
You can read more about Brian and Carver Banjos' beginnings in this article featured on The Washington Times website.
Aaron Carver is Brian's brother and the marketing director for Carver Banjos.  He is also the webmaster for the company's online platform.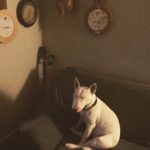 Banjo Carver is shop dog at Carver Banjos. She is a goofy English Bull Terrier rescue. Her hobbies include chewing on wood scraps, running in small circles and napping.